The Race That Was Not
By Susan Strange

November, 14th, 2018
"It's canceled," she said with a pained expression.
"Breakfast is canceled?" I responded back to the hotel concierge. Hard to fathom a hotel of this caliber would not offer race participants a modest continental breakfast let alone entirely cancel breakfast. "Is there a coffee shop in the area we can grab a bagel before the race starts tomorrow?"
"Breakfast is not canceled. The race is canceled. We just now received notification," she answered with kind patience.
We said nothing and continued to stare not knowing how to respond. Less than five minutes had passed since walking out of the expo after picking up our race bibs. Finally, I was able to squeak out "thank you, we didn't know" and stepped away from the desk. Ty and I looked at one another not believing the words we heard. Neither he nor myself could speak because the information stunned us beyond belief.
It is my preference to commemorate significant events with a run or bike ride. This year the Monterey Half Marathon conveniently fell on my birthday. Unbeknownst
to me, Ty also signed up for the half marathon and intended to pace me through the race so I would meet my intended finish time. It was a surprise from him that he presented me with immediately after I picked up my number.
"And since you are running a half marathon celebrating your birthday, you deserve your own personal pacer…and you get me!" He held before me his official race bib for The Monterey Half Marathon.
Speechless and elated beyond belief, I wrapped my arms around his neck and kissed him. This would be our first race together. Ever since I met Ty, I dreamed about us going to races together; not necessarily running any race together but at least going together and later reminiscing about one another's action and combat on the course. I was thrilled with the surprise and wanted the experience of running with him. This was a heartfelt gift from him I knew I would always treasure. The love I felt from him willing to do such was overwhelming.
"Let's go back to the expo and clarify this information. I think this is a hoax," I stated not willing to relinquish my gift.
We quickly walked back to the conference area where exhibits continued to display apparel, shoes, supplements, you have been there and you know what they sell. The
only area dismantled was race day registration that minutes before had a line of people before it.
Approaching an information booth with two men in dinner jackets behind a desk I asked without exchanging pleasantries, "Is it true the race is canceled?"
"Unfortunately, yes. The medical director made the decision based on present air quality, anticipating it will worsen overnight."
Wrapping my head around this information did not easily come. In my thirty years of racing, an event has never been canceled. I recall thunder and lightning at the start of the Myrtle Beach Marathon, running through torrential rainfall. I can feel the cold, single digit temperatures from multiple Charlotte Observer Marathons. It was inconceivable to me that this half marathon could be canceled due to air quality that might deteriorate over night. Processing this information was not coming easy to me.
Ty offers consolatory efforts to ease disappointment. I had been on an extreme high emotion given that Ty was willing to run with me and this had so quickly been ripped from me. I wanted to hold onto the dream just a little while longer, please!
Words from all those Tony Robbins and Wayne Dyer podcasts I'd listened to begin chanting in my mind, "woman, you best manage your state of mind."
Sunday morning I awaken to the sound of outdoor revelry, hearing music and occasional loudspeaker commentary. I could not see anything from my hotel window so I began dressing to go find out what was taking place. They better have not held this race without me!
The sleepy voice from Ty asked, "what's going on?"
"Don't know. Going to find out."
"Wait, wait, don't go by yourself. I'll go with you," he said, crawling out of bed.
The scene in the courtyard between the wharf and the hotel was as bewildering as the cancelation itself. At 8:30 am people were in a Laguintas beer line. People were walking around with food boxes containing cookies the size of a car tire. Most annoying to me were people standing in line to get a finishers' medal. How do you finish a race that does not start?
Had the purity of running eroded to pilfering paraphernalia, scarfing down more calories than actually expended, and celebrating events that never even happened? Was this fueled by the purposeful delay of
canceling the half marathon at the close of the expo so "official race merchandise' sales could be maximized? I visualized a snake swallowing it's tail. Were the organizers as well as the potential race participants relieved of any responsibility to give or receive the finisher medal?
Many people were proudly displaying a finishers medal around their necks. I wondered if they trained for the race or intended to perform a death march to the finish line. Personally, I can not appreciate the bling being greater than the training effort I enjoy preparing for a race. The dreaded early morning training run with a friend becomes the best part of the day. The arduous track work outs somehow become a run I look forward to. A few easy days in between and before the long run on Sunday that savors all the runs of the week blending them into a most satisfying collection of accomplishment.
One can argue I should have ran the distance on my own without the formality of traffic control, crowd support, finish line celebrations. Despite disagreeing with the race director's decision to cancel the race, I remained respectful of the decision. There may have been an alternate reason the race was canceled; i.e. emergency personnel needed elsewhere, nearby hospitals inundated with critical patients from other parts of the state. To run on the course knowing the race was canceled is equivalent to showing up for a party in which the hostess
has cancelled and rescinded the invitation. It is every bit as disrespectful as a bandit running a race.
We have a plan. We saved our race bibs with our names formally printed upon them. We will visit Monterey again and run, enjoying ocean breezes on our faces and somehow have a tailwind at our back. The fabricated finishers flash is not the motivating factor for races I enter. Most often it is an excuse to have loved ones join me in a beloved activity, simply going for a run.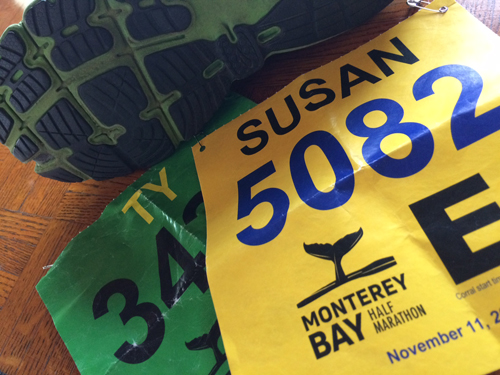 Previous Running Tattler Posts
Enjoyed this post? Subscribe here for more!