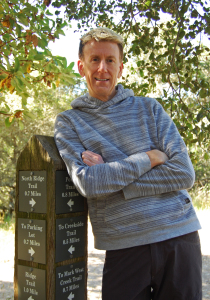 For many years now I have dreamed of writing a screenplay, selling it to a Hollywood studio, and fulfilling a life long dream of "being in show business." Or, at least, the making of movies, which is something I longed to do back when the 70's were in full swing. I loved every aspect of the movie making business, the story boarding, the filming, the editing, the sound tracking, showing the movie, discussing the behind-the-scenes elements in the making of said movie. Going to Universal Studios as a kid was nirvana. Watching gunslingers fall from second story balconies, riding on a tram that shook violently, nearby buildings swaying to and fro from the Big One hitting Los Angeles, and hearing the famous line yelled by an eccentric director, "Action!" were experiences I longed to be a part of.
So, you're probably wondering "a novel then?" Well, in February of 2013, I sat down to immerse myself in story, and despite having  a few ready to go–and having attended a wonderful screenwriter and filmmaker expo in Napa two years earlier–I felt compelled to practice writing, pure writing, without all the formal formatting–INT. SOMEPLACE FUN – DAY SUNNY FADE IN ON:–that goes along with screenplay writing. I wanted to explore in depth vivid characters and their experiences, their story arcs, their trials and tribulations, their pains and triumphs in a way only accomplished through fiction writing. A screenplay, and I will do one or two at some point, is, by comparison, an outline to a story, the broader strokes, if you will, that allows the eventual director and actors to take it from there, the starting point, literally fleshing out the character's emotions and will, and the plot's direction.
So, to that end I wrote a novel, for practice really, with no initial thought of publishing it. And to make a long story short, I decided, after many months of honing my beginning writing skills after the initial drafts, and receiving encouragement from my early test readers, I decided to plunge into the publishing waters.
There are a handful of writers that I can say have had strong and memorable influences on me. They include John Irving (The World According to Garp), Robert Ludlum (The Jason Bourne trilogy), John L. Parker (Once a Runner), Walter Kirn (Up in the Air, Thumbsucker, Lost in Mediocrity), and Ken Follett (Eye of the Needle).